3 Lodging and places to stay in New Meadows, Idaho
New Meadows is a charming town located approx 11 miles northwest of McCall and 30 miles south of Riggins. Known as Idaho's Heartland, New Meadows offers beautiful pastoral views and views of the surrounding mountains. A cross-roads for US Hwy 95 and State Hwy 55, New Meadows is more than a gas station stop. You have rafting on the Salmon River just a short distance away in the Riggins area, skiing in the winter along with hiking and mountain biking in the summer at Brundage Mountain Resort, plus other great nearby activities such as fishing, and just enjoying the beautiful surroundings and many trails available to explore.

Also worth mentioning just 2.5 miles north of New Meadows on U.S. 95 lies the imaginary line of the 45th Parallel. This sign-posted line marks the spot half-way between the Equator and the North Pole and is a popular photo-stop.

featured lodging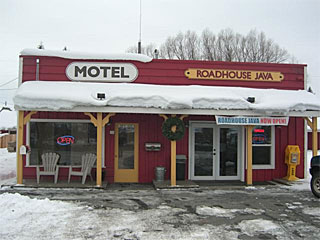 Meadows Valley Motel
in New Meadows, Idaho
Choose by location in New Meadows

thank you for making your reservations with us and supporting a local, Idaho business! 1-800-844-3246