6 Lodging and places to stay in Meridian, Idaho
Meridian in southwestern Idaho is centrally located in the Treasure Valley. A wealth of recreational opportunities are within easy access of the city and Idaho's capital city of Boise is just 10 miles away. Meridian retains its unique identity as a place that treasures its past, appreciates the present, and looks to the future with a spirit of harmony and prosperity.

Meridian is home to the Meridian Speedway, with stock car racing from April through September. For family fun, visit Roaring Springs Water Park and Boondocks Fun Center. The Idaho Peace Officers Memorial is located on the grounds of the Idaho State Law Enforcement Headquarters. For history buffs, visit the Pine Street School, a restored one-room schoolhouse museum; winner of the Governor's Award for Historic Preservation. The Meridian Historical Society also supplies us with copies of their Walking Tour of Oldtown Meridian.




featured lodging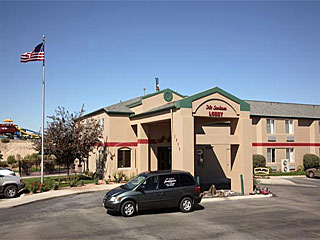 Mr Sandman Inn & Suites
in Meridian, Idaho
Choose by location in Meridian
thank you for making your reservations with us and supporting a local, Idaho business! 1-800-844-3246