3 Lodging and places to stay in Hailey, Idaho
Hailey, Idaho is a scenic mountain town located in the heart of the Wood River Valley. Conveniently located 11 miles south of the resort towns of Ketchum and Sun Valley, Hailey offers visitors it's own blend of mountain hospitality along with unique independent businesses, top notch shopping, dining and events. The Friedman Memorial Airport is located in Hailey and services the Wood River Valley including Sun Valley and Ketchum. The airport is only a mile south of the main downtown center of Hailey. Lodging options include the unpretentious Airport Inn located directly across from the airport as well as other hotels located closer to the downtown core, walking distance from shops and dining. For those in town for a ski vacation, Hailey is a short drive north (approx. 11 miles) to the Sun Valley Resort and Bald Mountain Ski Area. Hailey offers guests some slightly more affordable lodging options while those looking for luxury can choose to stay closer to the Resort in downtown Ketchum or Sun Valley.

featured lodging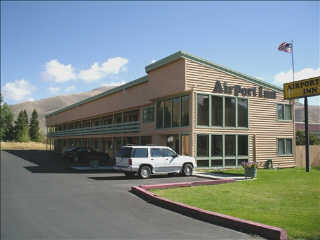 Airport Inn
in Hailey, Idaho
Choose by location in Hailey

travel tips and info for your vacation to Hailey
Sun Valley snow report
InIdaho is a ski package specialist. Current and historical snow reports are available for Sun Valley and other Idaho resorts. For inexpensive ski packages for Sun Valley, Hailey is a popular destination, just 10 miles south.
»
view Sun Valley's snow report here
Hailey Annual Events
Book your lodging early for these Hailey, Idaho events. 4th of July weekend featuring Anitque Show, Hailey Days of the Old West Rodeo. Early August Northern Rockies Folk Festival and the Valley Motor Club Car Show. Mid-October brings teh Trailing of the Sheep Fesitval.
Regional Sun Valley Airport
Located in Hailey, the Friedman Memorial Airport's airport code is SUN. Regional aircraft from SkyWest/Delta and Horizon service the airport.
thank you for making your reservations with us and supporting a local, Idaho business! 1-800-844-3246