B&B's in the GRANGEVILLE Idaho area
Perhaps the warmest welcome to GRANGEVILLE, Idaho
There's something to be said about the quaint, inviting and wholesome ambience of a bed and breakfast. We live and play in Idaho and we invite you to discover our state's gems and meet our local neighbors.

We found 2 places to stay that matched your criteria
Mariels Bed & Breakfast
(GRANGEVILLE, Idaho area)
The Farm is located on the beautiful Camas Prairie on the southern edge of the Nez Perce Indian Reservation. It was farmed until the middle 1930's by a Nez Perce Indian, Johnny Frank, at which time he sold it and moved to Kamiah. The Arnzen family bought the grounds after WWII. Mariel has lived there since 1956. The 300 acre farm has 200 acres of rich black soil on which w...
Learn More/Select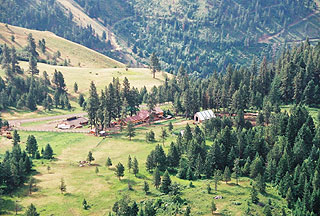 Whitebird Summit Lodge B&B
(GRANGEVILLE, Idaho area)
Guest Ranch
Bed/Breakfast
-
The Whitebird Summit Lodge invites you to their unique guest ranch which is located on seventy acres overlooking White Bird Canyon, the Camas Prairie and the Salmon River basin. Guests will enjoy stunning mountain views, no traffic noise, and a comfortable and exotic lodge. The owners have traveled the world and their memorabilia, stuffed mounts and photos on the wall are...
Learn More/Select
Page 1 of 1
Thanks for making your reservations with our local, Idaho company!